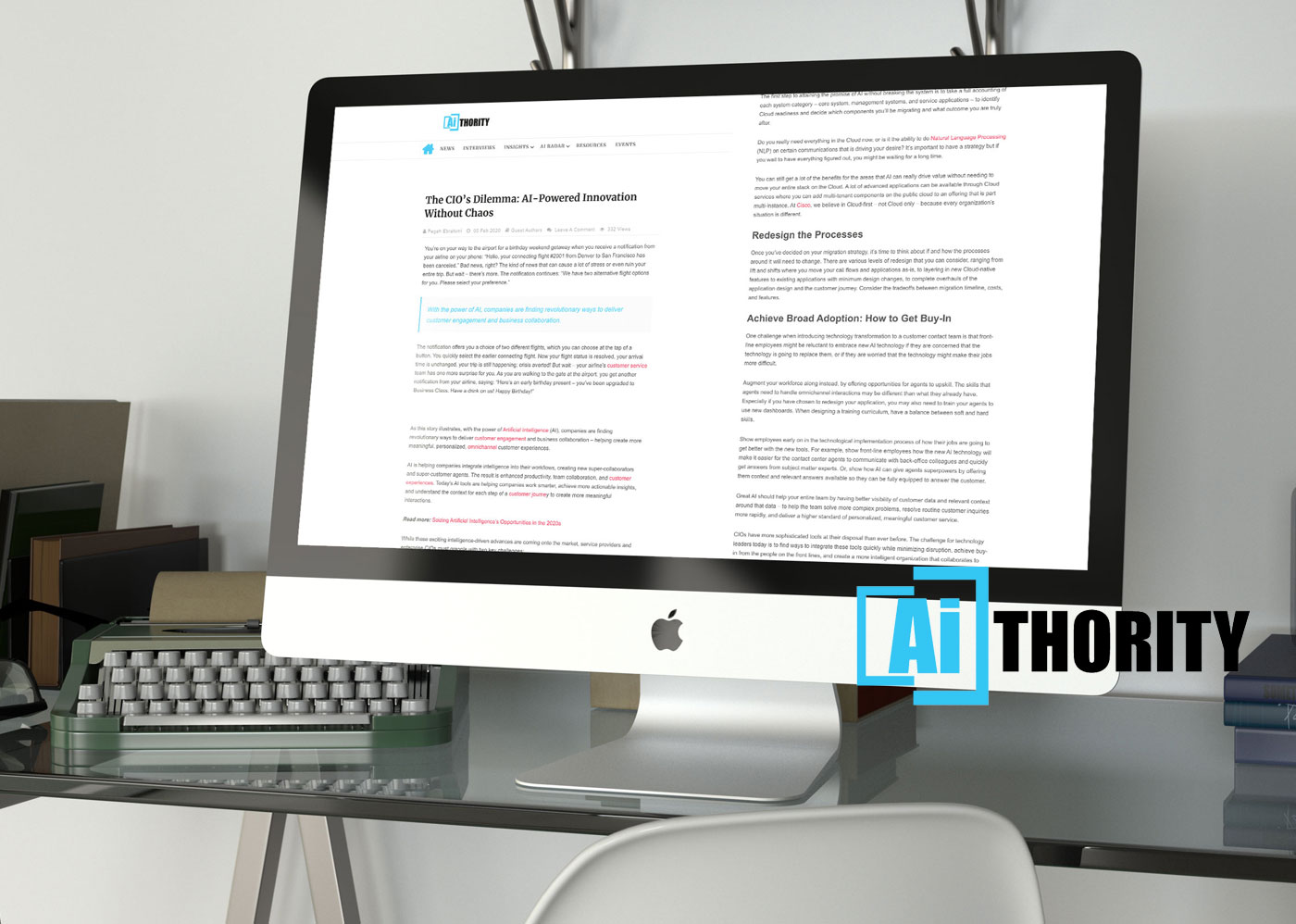 05 Feb

The CIO's Dilemma: AI-Powered Innovation Without Chaos
The CIO's Dilemma: AI-Powered Innovation Without Chaos
February 5, 2020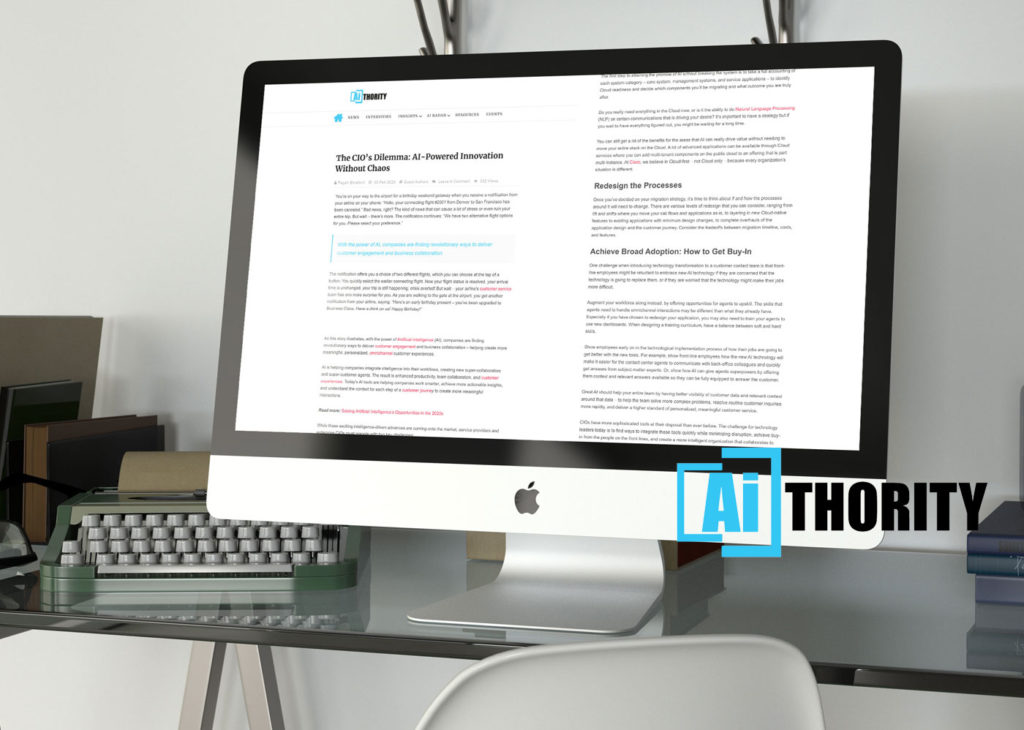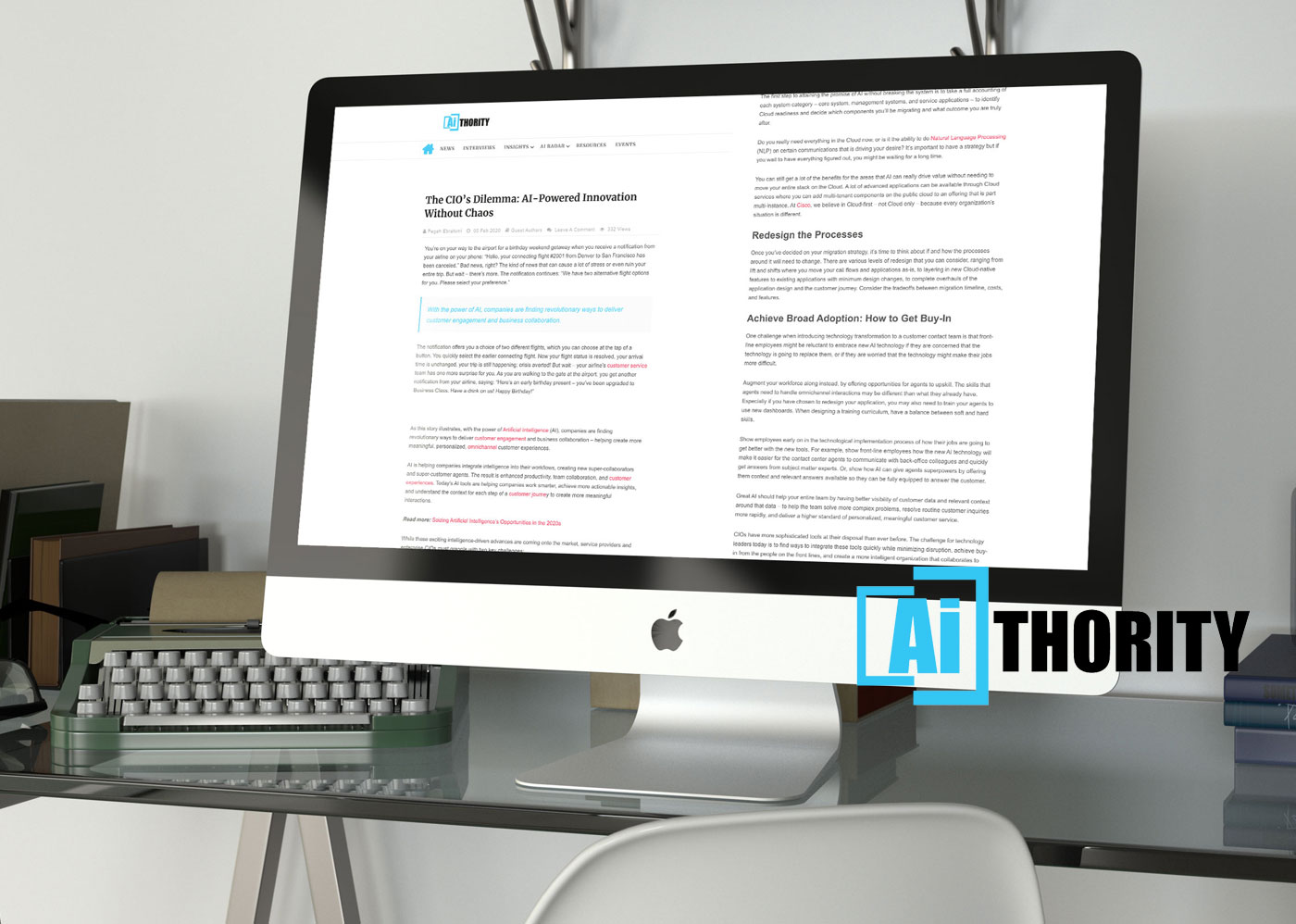 Pegah Ebrahimi
You're on your way to the airport for a birthday weekend getaway when you receive a notification from your airline on your phone: "Hello, your connecting flight #2001 from Denver to San Francisco has been canceled." Bad news, right? The kind of news that can cause a lot of stress or even ruin your entire trip. But wait – there's more. The notification continues: "We have two alternative flight options for you. Please select your preference."
With the power of AI, companies are finding revolutionary ways to deliver customer engagement and business collaboration.
The notification offers you a choice of two different flights, which you can choose at the tap of a button. You quickly select the earlier connecting flight. Now your flight status is resolved, your arrival time is unchanged, your trip is still happening; crisis averted! But wait – your airline's customer service team has one more surprise for you. As you are walking to the gate at the airport, you get another notification from your airline, saying: "Here's an early birthday present – you've been upgraded to Business Class. Have a drink on us! Happy Birthday!"
As this story illustrates, with the power of Artificial Intelligence (AI), companies are finding revolutionary ways to deliver customer engagement and business collaboration – helping create more meaningful, personalized, omnichannel customer experiences.
AI is helping companies integrate intelligence into their workflows, creating new super-collaborators and super-customer agents. The result is enhanced productivity, team collaboration, and customer experiences. Today's AI tools are helping companies work smarter, achieve more actionable insights, and understand the context for each step of a customer journey to create more meaningful interactions.
While these exciting intelligence-driven advances are coming onto the market, service providers and enterprise CIOs must grapple with two key challenges:
How do you deliver innovation in a stable and non-disruptive manner that facilitates broad adoption?
How do you build infrastructure that enables long-term delivery of sustained, agile and cost-effective innovation?
Here are a few key strategies to maximize the potential of AI for your organization, while avoiding potential risk and disruption.
Build Infrastructure and Integrate for the Long-Term
The future of customer contact and collaboration is in the Cloud. But that doesn't mean you need to move faster than you are ready or set up for; it might still make more sense to keep certain operations on-premise.
The first step to attaining the promise of AI without breaking the system is to take a full accounting of each system category – core system, management systems, and service applications – to identify Cloud readiness and decide which components you'll be migrating and what outcome you are truly after.
Do you really need everything in the Cloud now, or is it the ability to do Natural Language Processing (NLP) on certain communications that is driving your desire? It's important to have a strategy but if you wait to have everything figured out, you might be waiting for a long time.
You can still get a lot of the benefits for the areas that AI can really drive value without needing to move your entire stack on the Cloud. A lot of advanced applications can be available through Cloud services where you can add multi-tenant components on the public cloud to an offering that is part multi-instance. At Cisco, we believe in Cloud-first – not Cloud only – because every organization's situation is different.
Redesign the Processes
Once you've decided on your migration strategy, it's time to think about if and how the processes around it will need to change. There are various levels of redesign that you can consider, ranging from lift and shifts where you move your call flows and applications as-is, to layering in new Cloud-native features to existing applications with minimum design changes, to complete overhauls of the application design and the customer journey. Consider the tradeoffs between migration timeline, costs, and features.
Achieve Broad Adoption: How to Get Buy-In
One challenge when introducing technology transformation to a customer contact team is that front-line employees might be reluctant to embrace new AI technology if they are concerned that the technology is going to replace them, or if they are worried that the technology might make their jobs more difficult.
Augment your workforce along instead, by offering opportunities for agents to upskill. The skills that agents need to handle omnichannel interactions may be different than what they already have. Especially if you have chosen to redesign your application, you may also need to train your agents to use new dashboards. When designing a training curriculum, have a balance between soft and hard skills.
Show employees early on in the technological implementation process of how their jobs are going to get better with the new tools. For example, show front-line employees how the new AI technology will make it easier for the contact center agents to communicate with back-office colleagues and quickly get answers from subject matter experts. Or, show how AI can give agents superpowers by offering them context and relevant answers available so they can be fully equipped to answer the customer.
Great AI should help your entire team by having better visibility of customer data and relevant context around that data – to help the team solve more complex problems, resolve routine customer inquiries more rapidly, and deliver a higher standard of personalized, meaningful customer service.
CIOs have more sophisticated tools at their disposal than ever before. The challenge for technology leaders today is to find ways to integrate these tools quickly while minimizing disruption, achieve buy-in from the people on the front lines, and create a more intelligent organization that collaborates to their fullest potential. The new wave of AI technology is helping to emphasize the importance of the human element at work, by helping people solve more complex problems and deliver emotionally impactful, meaningful interactions.
Pegah Ebrahimi
COO of Cisco Collaboration
Pegah is COO for Cisco's Collaboration Technology Group, which includes Meetings, Teams, Devices, Calling, and Contact Center. Prior to joining Cisco, she served as Morgan Stanley's COO of Global Technology Banking. She led business transformation and global expansion for this multi-billion dollar, world leading franchise; doubling revenue and profitability during 4 years.
Previously, as CIO of Morgan Stanley's $7Bn Global Banking Franchise and prior to that, as VP, Strategy and Operations for the $20Bn Institutional Sales Divisions, Pegah successfully drove global technology strategy and execution around infrastructure, application development, collaboration, and end-user computing.
An MIT graduate, Pegah is an innovator and entrepreneur at her core, having launched two companies of her own.