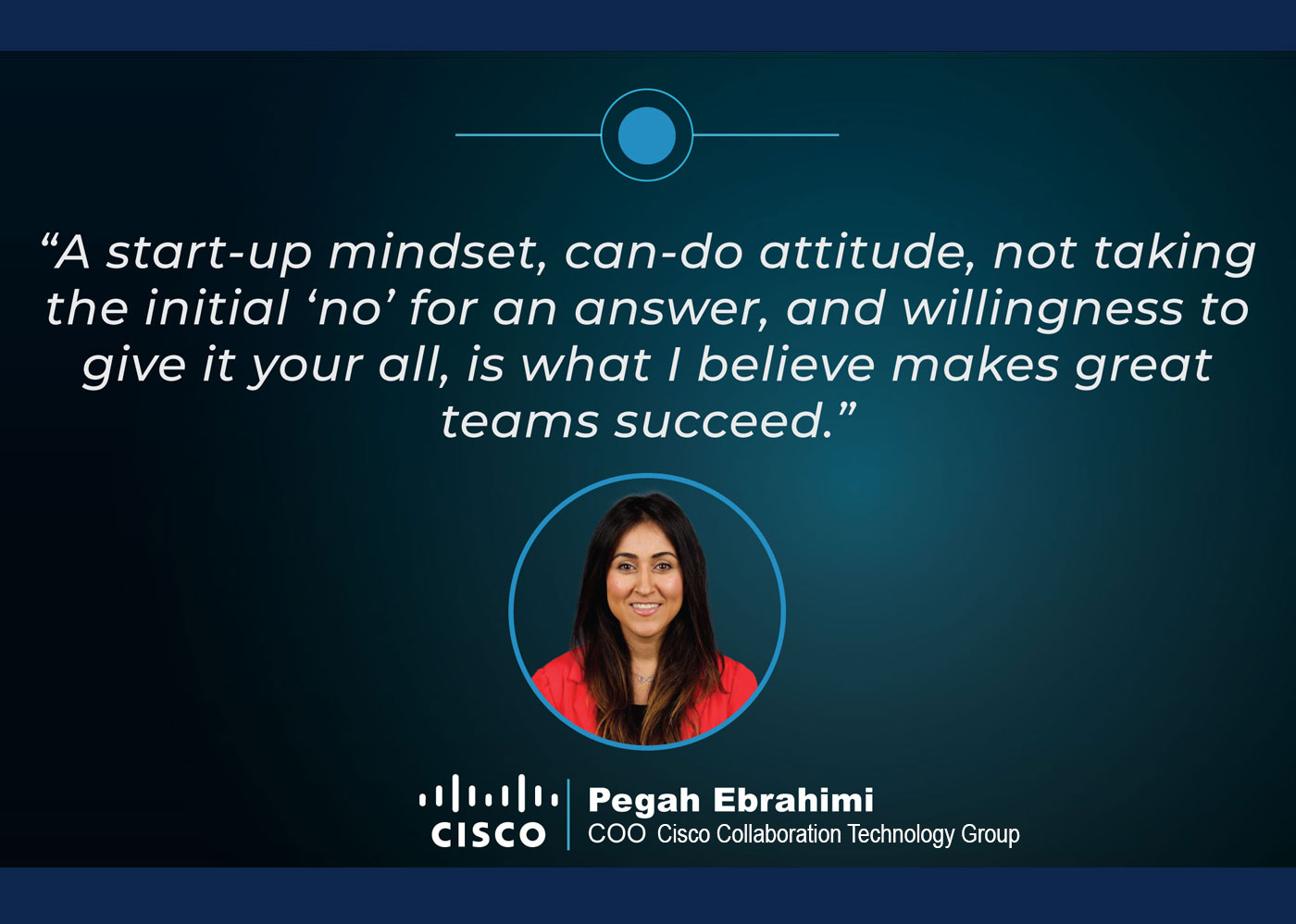 20 Mar

TechBytes with Pegah Ebrahimi
TechBytes with Pegah Ebrahimi
March 20, 2020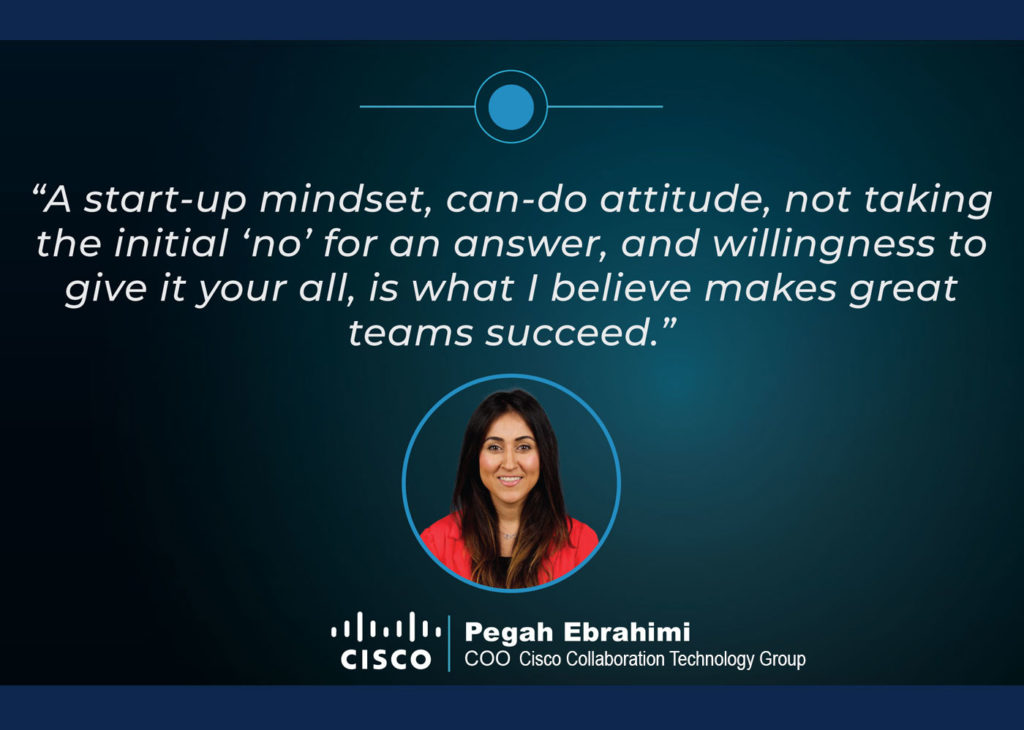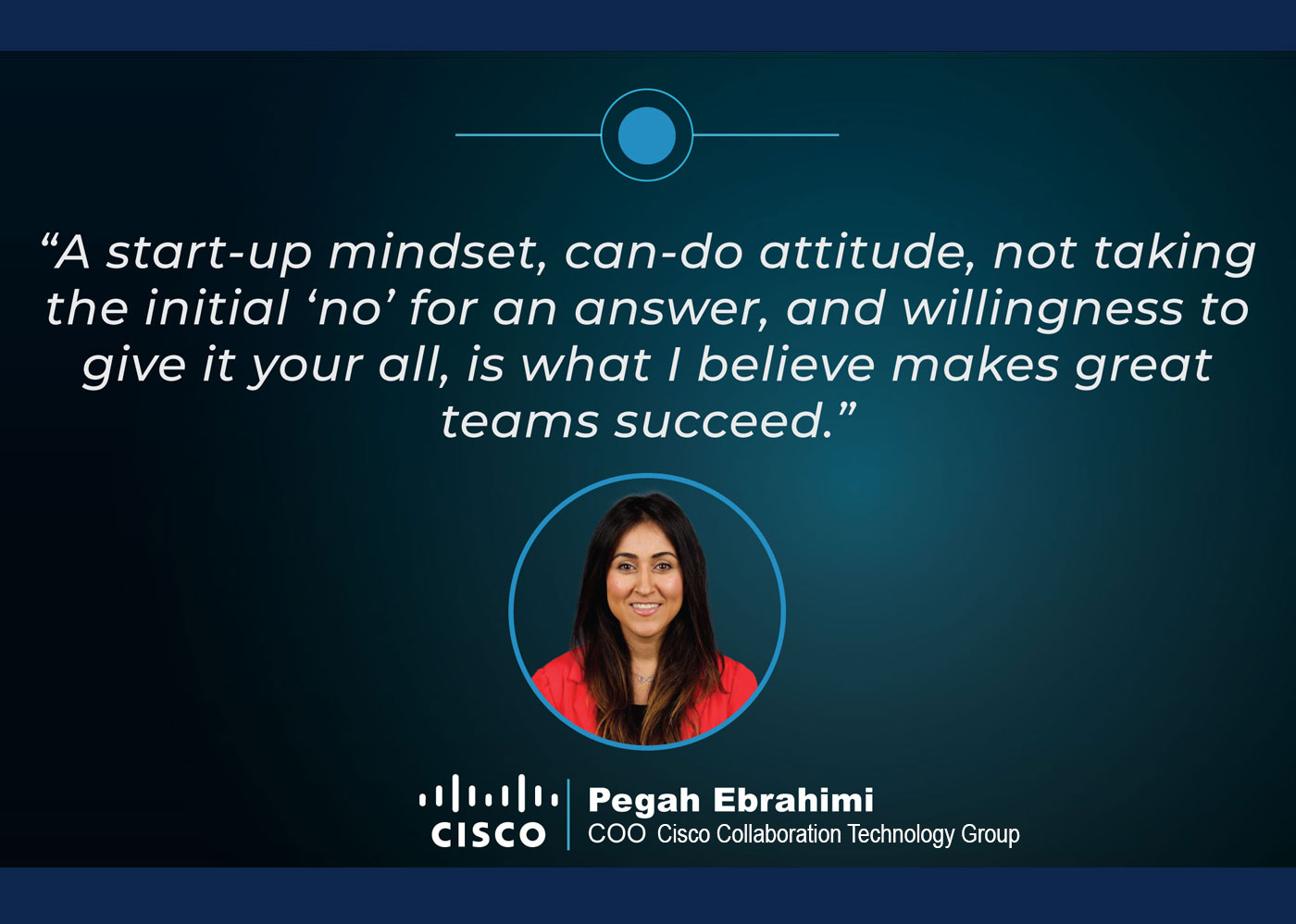 Hi Pegah, please tell us about your journey in technology and how you started at Cisco.
I was appointed as COO of Collaboration at Cisco over a year ago. But in many ways, my entire career has prepared me for this role. I've always had a love for technology and solving new problems in some form, given the exposure I got from going to a school like MIT that was leading the way in so many areas of technology. I started my career at Morgan Stanley as an analyst in Investment Banking, focused on strategic advice to technology companies. It was during that time I realized the excitement of investing in disruptive start-up companies, which led to my move into venture capital. I helped companies that were on a mission to disrupt, before founding my own e-commerce start-up that I sold after a few years.
By then I had spent a lot of time with mobile-first and SaaS focused companies, which were still considered a novelty, and I was asked to return to Morgan Stanley as CIO of the Global Investment Banking Division. Being responsible for setting the global technology strategy enabled me to hone my instincts for identifying and acquiring external technology that aligned and enhanced a company's vision, in addition to creating our own products and software. People sometimes don't realize how much technology and development happen in large financial institutions given the proprietary nature of those businesses – and that was incredibly valuable! I got to realize the pain points of a CIO both as a customer of services, as well as a provider of products and services.
As a CIO you really have two customers — the company employees and the actual consumers! That's really what eventually prepared me the most for my current role. Not only did I build products in-house, but I also had to incorporate external technologies to interoperate and seamlessly integrate with our existing investments and products. I realized how much it takes to change behavior in large organizations, and technology is just part of it. The best products have to really understand what the user is doing day-to-day and enhance their existing workflow, not add more workflows.
All the while, I remained interested in emerging technologies and companies and started advising and helping many enterprise software companies — many of which are public now — since enterprise for many start-ups is a completely different world. It was during that time that I decided to become COO of Morgan Stanley's Technology Bank to take a more hands-on approach to guide the best emerging technology companies that were private, in their quest to become some of the largest SaaS companies.
One of the companies I was advising at the time was Accompany, an AI company focused on building the most comprehensive people and company profiles, all based on public information. Cisco acquired Accompany, and when the founder of that company, Amy Chang, went on to become the Head of Cisco Collaboration, I knew I wanted to work with her and be a part of what Cisco stood for.
Cisco's approach to collaboration, combined with the power of their portfolio and earlier bets on AI and ML, fundamentally could change the game in how we think about collaboration. In the past, collaboration was about making meetings, customer service calls or any virtual interactions as good as face-to-face, at best. With AI and ML, we can make virtual engagements even better than those that are face-to-face.
What kind of skills and abilities does one need to be part of your team?
I strongly value problem solvers and people who ask, 'Why are we doing this, this way?" Without a doubt, trust is a requirement among my team members. We are all united in accomplishing a shared vision for the company, so knowing that the collective team is working together towards that and helping everyone else is key in achieving the ambitious goals that we have. Beyond this, a start-up mindset, can-do attitude, not taking the initial 'no' for an answer, and willingness to give it your all are what I believe makes great teams succeed.
A start-up mindset, can-do attitude, not taking the initial 'no' for an answer, and willingness to give it your all are what I believe makes great teams succeed.
Computing and AI Insights
We hear a lot about AIOps and its role in transforming IT and Cloud Services. At Cisco, what unique opportunities and challenges do you have to deal with on a daily basis?
When talking about technological innovations like Artificial Intelligence and Machine Learning, it's sometimes easier to look at specific technical benefits as opposed to the overarching value it brings to all of us in society. The value of AI is that it will continue to evolve in ways that will enhance the small but still vital activities that make each business day more productive.
For instance, as a COO, I'm constantly evaluating how to streamline not only operations but also generate opportunities to use the data that's collected across the business to help make us more efficient in cost and revenue. When you apply AI into that mix, what appears to be disparate, unrelated data sets suddenly make sense and demonstrate patterns from which change can be derived. The daily opportunity I have is to take the learnings I've derived from AI application across our collaboration business operations and portfolio, then translate those in a way that benefits Cisco and our customers.
We've internally built various ML models that are helping drive meaningful revenues and opportunities for us over the last few quarters. These have become an example of what's possible for the rest of the company when you harness the power of your own data and laser focus on specific outcomes you want to achieve.
What are your comments on the role of a Future CIO? How has the role evolved with the explosion of Data Science, Privacy laws and Cybersecurity norms?
With the advancement of technology comes both new solutions and problems for CIOs today. Having advised different companies through the years, I've seen some of the disconnects that can happen within the C-suite as CIOs are challenged with an ever-expanding role — implementing Digital Transformation while reconciling legacy systems and business processes.
With that, the concept of a Future CIO doesn't exist – that expectation is here today. The best way to address this is for CIOs to lead transformation through a customer-oriented mindset, ensuring that they are reconciling and addressing both legacy systems and customer-facing applications to support the corporate strategy. I call it the modern CIO's dilemma, innovation without disruption. CIOs have deep architectural knowledge plus the technical authority to harness contextual data in a way that can transform a company — this is their responsibility now and for the future.
Governance and Advisory
You work very closely with various international committees and councils. What is the biggest challenge mankind is staring at today? How do you leverage technology to find solutions for these challenges?
One of the biggest challenges I see is fostering human connection in a time where we are more dispersed and distracted than ever. With the explosion of smart devices, apps, and social media, there is more information coming at us than ever before in the history of mankind. While in many ways this information creates new opportunities and chances to learn, the continuous onslaught also drives us to be overloaded and unable to disconnect. From a business perspective, this is even more prevalent in the workplace – 73% of employees lose more than an hour a day trying to navigate between systems and apps. These are the very tools that are meant to help them!
All that said, I believe that it's the technology that will ultimately solve some of these challenges that have come about. The collaboration tools of today are fostering richer experiences between people, both in personal and professional environments. With that experience comes deeper connections, more productivity, and more engagement. People are yearning for technology that is simplified, integrated and personalized and they want technology to give them back their time to actually think about non-urgent but important problems. Having watched this space for many years, that's where I see collaboration going — an evolution from disparate silos to more holistic integration across systems, platforms, devices, and apps. With less time spent in generic meetings, updates, and task follow-ups, it will be easier to get to what we want.
Pegah Ebrahimi
COO of Cisco Collaboration
Pegah is COO for Cisco's Collaboration Technology Group, which includes Meetings, Teams, Devices, Calling, and Contact Center. Prior to joining Cisco, she served as Morgan Stanley's COO of Global Technology Banking. She led business transformation and global expansion for this multi-billion dollar, world leading franchise; doubling revenue and profitability during 4 years.
Previously, as CIO of Morgan Stanley's $7Bn Global Banking Franchise and prior to that, as VP, Strategy and Operations for the $20Bn Institutional Sales Divisions, Pegah successfully drove global technology strategy and execution around infrastructure, application development, collaboration, and end-user computing.
An MIT graduate, Pegah is an innovator and entrepreneur at her core, having launched two companies of her own.